Mexican Gov't Union Busting in BC, Charges Union
Guest workers pressured by Mexican officials to decertify unions, says UFCW.
By Tom Sandborn, May 11, 2011
TheTyee.ca
The office of the consulate general for Mexico in Vancouver has been involved in union busting activity among Mexican workers brought to B.C. under federal temporary worker programs, charge lawyers acting for the United Food and Commercial Workers union.
Mexican labour officials, it is alleged, have "choreographed" attempts to de-certify union contracts at B.C. farms. The allegations are contained in complaints filed with the B.C. Labour Relations Board on April 19 and 28.
According to documents filed with the board, the government of Mexico, through its Ministry of Labour, violated sections 6(1) and 9 of the provincial labour relations code when it instructed Honorio Corona Martinez, a worker enrolled in the Seasonal Agricultural Workers Program ( SAWP) and employed in Canada by Floralia Plant Growers Limited of Abbotsford, to initiate a union decertification campaign at Floralia, where the UFCW currently represents workers under an agreement adopted in September of 2009.
---
April 29, 2011
Farm workers have no right to unionize, top court rules
By KIRK MAKIN
Globe and Mail Update
The Supreme Court of Canada dealt a harsh blow to the union movement today, ruling in favour of an Ontario law that restricts the right of farm workers to bargain collectively.
The Court said that the constitutional right to free association guarantees that "meaningful" negotiations take place between workers and their employers - but it is not intended to police the mechanics of how those negotiations take place.
"What is protected is associational activity, not a particular process or result," the majority said. "The Ontario legislature is not required to provide a particular form of collective bargaining rights to agricultural workers, in order to secure the effective exercise of their associational rights."
The case was seen as a key test of the constitutional right to free association, a section of the Charter of Rights that has evolved less than many others.
The plaintiffs - farm workers and a major union - had complained that an Ontario law that allowed them to form employee associations but prohibited them from forming unions, violated S. 2(d) of the Charter of Rights and Freedoms.
Writing for five judges in the 8-1 majority, Chief Justice Beverley McLachlin and Mr. Justice Louis LeBel said that the Charter guarantees only the right to good faith negotiations.
"Good faith negotiation under s. 2(d) requires the parties to meet and engage in meaningful dialogue," they said. "It does not impose a particular process; it does not require the parties to conclude an agreement or accept any particular terms; it does not guarantee a legislated dispute resolution mechanism in the case of an impasse; and it protects only the right to a general process of collective bargaining, not to a particular model of labour relations, nor to a specific bargaining method."
Agriculture has long been a sore point with the labour movement. They have been critical of successive governments for sympathizing with arguments from employers that their operations are uniquely vulnerable to the effects of collective action.
They contend that family farms cannot withstand the ill effects of strikes or other work action, and that the short planting and harvesting seasons can be easily devastated by a work stoppage.
"Fraser is an important case because it confirms that there is no one vision of labour relations that has to be followed in this country," said Brad Elberg, who represented the Mounted Police Members' Legal Fund in the case.
"In particular, we do not have to have workplaces where a traditional union is pitted in an adversarial relationship with an employer," Mr. Elberg said.
"Different workplaces can have different consultative structures. The important thing is that employees have an ability to come together in some form, communicate their positions to employers, and engage in meaningful discussion about the workplace."
Mr. Elberg said that the Supreme Court wisely refused to allow organized labour to use the Charter "to impose on government its vision of the ideal model of collective bargaining."
Allan Hutchinson, a law professor at York University's Osgoode Hall Law School, said that the Court has proved unwilling to apply the very rights it created through previous judgments. He said that today's decision "squandered the debatable promise" of those judgments.
"What good is a recognition of rights if the least advantaged and most disenfranchised in society - agricultural workers - cannot access them," Prof. Hutchinson asked.
The mushroom workers case provided the labour movement with a worst-case scenario it hoped could lead to a constitutional breakthrough.
Workers at the plant - which has been sold since the dispute began - alleged that they were kept in a state of fright and intimidation, warned repeatedly that attempting to organize a union would cost them their jobs.
Pitting a group of immigrant workers who worked gruelling hours in conditions they described as horrendous and humiliating, the case revolved around a Rol-Land Farms facility near Windsor, Ont. Workers alleged that it was dark, mouldy and cockroach-infested.
About 300 workers, who had immigrated from countries such as Cambodia and Sudan, harvested the crop, were referred to by numbers and banned from speaking any language but English.
Notwithstanding the dire warnings against unionizing, a majority of the workers nonetheless voted to join the United Food and Commercial Workers Canada in 2003. However, they were unable to make any headway in bargain with their employer for a contract.
The majority said that it was premature for the litigants to mount a challenge of fresh legislation in an attempt to prod the Court into expanding its recent rulings on the same issue.
"The seriousness of overturning recent precedents of this Court, representing the considered views of firm majorities, cannot be overstated," Chief Justice McLachlin and Judge LeBel said.
Two other judges in the majority - Madam Justice Louise Charron and Mr. Justice Marshal Rothstein, went further, denouncing a previous Supreme Court ruling that effectively created a constitutional right to collective bargaining.
"Section 2(d) protects the liberty of individuals to associate and engage in associational activities," they said. "It protects the freedom of workers to come together, to form a bargaining position and to present a common and united front to their employers. It does not protect a right to collective bargaining nor does it impose duties on others, such as the duty to bargain in good faith on employers."
To the extent that a recent court ruling constitutionalized collective bargaining, they said, "it was not correctly decided. It should be overturned thus disposing of the constitutional challenge in this case."
However, in a sharp dissent, Madam Justice Rosalie Abella said that the Ontario law was decidedly unresponsive to the need to extend collective bargaining rights to agricultural workers.
"Preventing all agricultural workers from access to a process of collective bargaining in order to protect family farms, no matter their size or nature of the agricultural enterprise, harms the s. 2(d) right in its entirety, not minimally," Judge Abella said.
"It is worth noting too that all provinces except Alberta give agricultural workers the same collective bargaining rights as other employees," she added. "There is no evidence that this has harmed the economic viability of farming in those provinces, or that the nature of farming in Ontario uniquely justifies a severely restrictive rights approach."
The challenge was launched by three Ontario factory farm workers, the United Food and Commercial Workers Canada union and its national director, Michael J. Fraser.
Their legal challenge took on a historic exclusion of agricultural workers from the Ontario Labour Relations Act.
In a landmark 2007 decision involving B.C. health care workers, the Court affirmed protections to the right to collective bargaining. Coming from a Court that was seen as conservative and wary of extending Charter rights, the decision surprised and delighted the union movement.
UFCW elected to pursue the mushroom workers case. Beyond enhancing the rights of the workers involved, they hoped for a ruling that could prevent governments moving in to force striking workers back to their jobs.
Ontario agricultural workers were given the right to unionize in 1994, but the law was quickly repealed by the Mike Harris government a year later.
In 2001, however, the Supreme Court restored the right of agricultural workers to join a union or employee association. In the case of Dunmore v. Ontario, it said that the law violated the Charter by excluding agricultural workers from the Ontario Labour Relations Act.
The Supreme Court instructed the province to change its labour laws to comply with the ruling.
The result was the Agricultural Employees Protection Act. It allowed Ontario farm workers to form associations, but not unions. It asserted that employers have no obligation to negotiate with them, effectively denying agricultural workers the right to collectively bargain.
In challenging that law, the UFCW won an initial victory in the Ontario Court of Appeal. It ruled that agricultural workers enjoy the same labour relations protections as other workers in the province. However, the ruling did not go so far as to grant agricultural workers the right to strike.
Links:
Globe and Mail Online
PDF
5 PM EST, April 29, 2011

Supreme Court listened, they ruled and they failed!
Migrant workers struggle to continue despite recent Supreme Court decision
(Toronto): In the face of the utter contempt by Canada's highest court, Justicia for Migrant Workers (J4MW) reaffirms its commitment to the struggle for migrant justice in Canada. Today, the Supreme Court failed to address issues raised by Justicia for Migrant Workers relating to agricultural worker self-determination, to ongoing racism in Canadian society and to the inherently exclusionary impact of Canada's immigration laws. The Court's ruling in Fraser reinforces the hyper-exploitative and apartheid-like conditions faced by hundreds of thousands of migrant workers across Canada.
Supreme Court decision on rights of agricultural workers unworkable
"The Courts interpretation of the AEPA is unworkable. The decision does not reflect the realities of collective bargaining on the ground and the unequal bargaining power between employers and farm workers."
Montreal (29 April 2011) – The decision of Supreme Court of Canada's (SCC) issued today regarding the labour rights of agricultural workers in Ontario is shocking and unworkable according to the Canadian Foundation on Labour Rights (CFLR).
UN Finds Canada and Ontario Violate Human Rights
An Agency of the United Nations Has Ruled a Ban on Farm Unions Violates the Human Rights of Ontario's 100,000 Migrant and Domestic Farm Workers
Link: Web
GENEVA, SWITZERLAND -- (Marketwire - Nov. 19, 2010)
The UN's International Labour Organization (ILO) has ruled that Canada and Ontario, through Ontario's ban on farm unions, violate the human rights of the more than 100,000 migrant and domestic agriculture workers in that province.
It follows a complaint filed in March 2009 by UFCW Canada — the country's largest private-sector union and a leading advocate for farm workers' rights for over two decades. The ILO is the United Nations agency responsible for formulating international labour standards including basic labour rights.
"The ILO has sent a clear message to the Canadian and Ontario governments that Ontario must end its blatant abuse of the rights of the workers who grow and harvest our food," says Wayne Hanley, the national president of UFCW Canada. "These are farm workers, not farm animals, and people have human rights including the right to collective bargaining."
The ILO ruling was handed down in Geneva (www.ufcw.ca/ilo). It found that Ontario's Agricultural Employees Act, 2002 (AEPA) which denies all Ontario agriculture workers the right to join a union and engage in collective bargaining is a violation of human rights under two United Nation's conventions: Convention No. 87 – Freedom of Association and Protection of the Right to Organize, and Convention No. 98 – Right to Organize and Collective Bargaining.
Canada is a signatory to Convention 87 and supported Convention 98, "so you would expect a federal government that bid to get on the UN Security Council would have the integrity to follow up on the UN conventions," said the UFCW Canada president. "The feds can say it's a provincial matter but the reality is that both the Harper and McGuinty governments are partners with the farm lobby in plowing under the human rights of people doing some of the hardest and most dangerous work there is."
The ILO ruling reinforces a November 17, 2008 Ontario Court of Appeal ruling that found the AEPA violated Canada's Charter of Rights and Freedoms by denying Ontario farm workers their freedom of association. The Ontario government appealed that decision to the Supreme Court of Canada which has twice before upheld the Charter guarantee of collective bargaining rights. The Supreme Court heard the appeal in December 2009 and its final and definitive ruling is pending.
"While Ontario continues to stall by using the courts, the lives of the workers continue to be at risk," says Hanley. "Without labour rights, Ontario farm workers remain powerless when faced with abusive employers and dangerous working conditions. The Ontario courts have said it. The Supreme Court has said it, and now the United Nations has said it. Labour rights are human rights, and that must include Ontario farm workers."
UFCW Canada, in association with the Agriculture Workers Alliance (AWA), operates ten agriculture worker support centres across Canada. The AWA is Canada's largest national association and support network for both domestic as well as migrant agriculture workers.
'Precedent-setting' contract a first for migrant farm workers

Migrant workers at the Sidhu and Sons Nursery in Mission have gained a precedent-setting union contract.

By Vikki Hopes - Abbotsford News
Published: November 12, 2010 4:00 PM
Link: Web

A collective agreement reached between a Mission-based nursery and a group of its employees is the first contract in Canada to specifically address migrant workers.
The contract with Sidhu and Sons Nursery on Sylvester Road was announced today (Friday) by local 1518 of the United Food and Commercial Workers (UFCW). It involves about 40 individuals.
Andy Neufeld, communications director with UFCW local 1518, described the arrangement as "precedent-setting."
He said it took almost three years to get the agreement in place between the nursery and the workers, who are mainly from Mexico and Jamaica.
The contract includes a grievance procedure, seniority rights, paid breaks, increased vacation pay, a wage increase and more.
They are also entitled to recall rights, meaning once they leave the country when the growing season is over, they are given priority in being called back the following year.
Gurdev Sidhu, the owner of Sidhu and Sons Nursery, did not return a phone call from the Abbotsford News yesterday. According to their website, the nursery produces more than 600 acres of evergreens, conifers, shrubs, trees and perennials, including blueberry plants.
Neufeld said the contract is significant because it has been difficult for migrant workers across Canada to gain bargaining recognition under provincial labour codes. This is because they are not permanent residents, typically spending five to eight months in the country performing work that can't be filled by Canadians.
He said it has also been difficult for workers to organize because they are fearful of being seen as trouble-makers and not being called back the following season. They do not want to risk losing the seasonal work, which pays considerably more than what they would make in their home country.
But Neufeld, speaking in general terms, said union protection is necessary in some cases.
"There are some very good farm operators out there who treat their workers really well, and there are others who don't because it costs them."
Neufeld said some workers live in sub-standard conditions, including in homes with no running water or bathroom facilities, or where chemicals are stored beside them.
Some work long hours without breaks – contrary to the employment standard codes, Neufeld said.
"(Some) employers do and can get away with not abiding by those laws."
Manpreet Grewal, manager of Multi-cultural and Immi-grant Integration Services at Abbotsford Community Services, applauded the unique contract.
"Anything which moves towards improving the working conditions and ensures fair practices under our legal system for both resident and migrant farm workers is a welcome step," she said.
Grewal said setting standards in the farming industry – whether by the employer or the workers – would help reduce lawsuits around false employment records and tax cases, and diminish health and safety issues. She referred specifically to the crash in March 2007 that killed three farm workers on Highway 1. The van they were in was overloaded and did not meet safety standards.
Debbie Etsell, acting executive director of the Abbotsford-based B.C. Blueberry Council, said she believes the farming industry, as a whole, is doing a good job.
"Overall, B.C. has a pretty good reputation for the handling of its farm workers," she said.
She said there are formal routes for workers to take if they have concerns about their conditions, including reporting to the B.C. Agriculture Council, the federal government, and the consulate in their home country. In the three years she has been with the blueberry council, she said she has not received one report about the mistreatment of a foreign worker.
The workers at Sidhu and Sons come to Canada each season under the federal Seasonal Agricultural Workers Program (SAWP).
They were certified as a bargaining unit in March of this year, after casting their ballots more than a year before that.
The ballot box was sealed after Sidhu and Sons argued that it also employs domestic workers and a stand-alone unit of SAWP workers was not appropriate.
A hearing determined the workers had a constitutional right to unionize and bargain a collective agreement.
Farm workers van crash inquest begins

CBC News
December 7, 2009

An inquest into a deadly passenger van crash that killed three farm workers nearly three years ago on the Trans-Canada Highway near Abbotsford began Monday morning in Burnaby, B.C., east of Vancouver.
Complete Article: Web

How we're creating an illegal workforce
Controversial federal program brings in foreigners for temporary jobs, but leaves them ripe for abuse
Toronto Star. November 1, 2009
Foreigners in Canada on temporary work permits are being pushed into the underground economy by the recession and a controversial federal program that leaves them vulnerable to abuse, a Star investigation has found.
Farmworker Health and Safety Challenges for British Columbia
A Draft Report *by Gerardo Otero and **Kerry Preibisch
October 2009
* Professor of Sociology and Latin American Studies at Simon Fraser University
** Associate Professor of Sociology at the University of Guelph

Mexican consul tampered with migrant farm worker union vote in Manitoba
Winnipeg (17 Aug. 2009) - The Mexican consul visited migrant Mexican farm workers in Manitoba and threatened to blacklist them from ever coming to Canada again if they did not vote to decertify their union at Mayfair Farms in Portage La Prairie, says a spokesperson for group supporting the workers.
The vote to abandon the union, which they had previously chosen to join, was announced earlier this month.
More Legal Twists to Migrant Workers' Unionizing Attempt
Union claims unfair practices.
Greenway Farms loses try at decertifying, but matter isn't closed.
By Tom Sandborn
Published: July 3, 2009
TheTyee.ca
Link: Web
The owners of Greenway Farms in Surrey have failed in their appeal to decertify the union their migrant workers voted to join last year.
But the union side isn't celebrating yet.
What looked like a breakthrough success at organizing foreign guest workers in British Columbia remains in limbo while the B.C. Labour Relations Board (LRB) sorts through more intrigue around the union drive at Greenway.
An extra wrinkle to the dispute is the fact that LRB vice-chair Philip Topalian, likely the one to rule on the next stage of the case, has been found by the Supreme Court of B.C. to have shown "actual bias" in another case involving claims of unfair labour practices towards foreign workers.
Sealed vote by new workforce
Greenway Farms made B.C. history last year when its mostly Mexican workforce (who came to Canada under a federal guest worker program) chose the United Food and Commercial Workers union (UFCW) to represent them as their bargaining agent.
Greenway Farms appealed to the LRB to cancel the union's certification. Their appeal was rejected on June 29 in a ruling by LRB vice-chair Ken Saunders. Saunders rejected the argument from Greenway's lawyers that the provincial labour body had no jurisdiction over employees under the federal government's controversial Seasonal Agricultural Workers' Program.

But that wasn't the only hurdle the union needs to clear.
Yesterday, July 2, the question of whether to decertify the union was put to the current workers at Greenway, who were allowed in a separate decision by the LRB to cast their votes on the matter.
Now, the results of that vote are sealed while the LRB considers an unfair labour practices complaint filed by the union.
Union's unfair practices complaints
The union's complaint alleges that the drive to decertify was led by Gurinder Narwal, a farm owner and a long-time friend of the family that owns Greenway Farms.
The complaint alleges that Narwal, who has not been a Greenway employee during the period of the union's certification there, intimidated Greenway workers and led the campaign to "get rid of the union," all of which, claims the union, contravenes LRB rules about fair labour practices.
When approached by the Tyee at the LRB hearings, Narwal refused comment, saying he was "acting for the employees."
Bill Singh Sandhu, the administrator at Greenway, also refused an interview with the Tyee.
Union organizers told the Tyee last month that they suspected Greenway owners "shuffled" their workforce this year, replacing most of the Mexican workers who supported joining UFCW in the 2008 season with a new and mostly local crew of Indo-Canadian workers.
Supreme Court finds bias at LRB
Philip Topalian is the LRB vice-chair who ruled that Greenway's current workforce could vote on whether or not to decertify the union. He will likely be weighing the Union's claim that the vote is invalid because of unfair labour practices.
B.C Supreme Court Justice Paul Walker criticized Topalian last May in a judicial review of disputes before the LRB that stemmed from the use of foreign workers on the Canada Line project.
SELI, the main employer involved in the Canada Line tunnel below Vancouver's False Creek, hired foreign workers to do the tunneling, but became embroiled in a pay dispute with the foreign crew and the Construction and Specialized Worker Union Local 1611 representing them.
The matter went to the LRB, where Topalian decided in favour of SELI.
But in reviewing the case, Justice Walker concluded that Topalian had made up his mind well before all the evidence was presented, and that his "mind was closed to the union's complaint that unfair labour practices had, in fact, occurred."
Walker quashed Topalian's rulings, stating, "It is vital for labour relations in this province that the Board's processes be viewed as impartial and procedurally fair."
Union wants inquiry
In the wake of that Supreme Court ruling, Local 1611 business manager Mark Olsen called on the provincial government to dismiss Topalian as vice-chair and conduct an independent inquiry into the LRB because "neither our union nor likely any other union can have confidence [Topalian] will be fair and unbiased in future cases."
LRB media spokesman Pat Driscoll told the Tyee he could not confirm or deny whether Topalian would continue to preside over the unfair labour practices complaint in the Greenway Farms case.
Driscoll refused to comment on the Supreme Court of BC criticism of Topalian or the call from Local 1611 for Topalian's removal from the board.
Driscoll suggested that the Tyee speak with LRB chair Brent Mullin about the matter.
Mullin sat on the reconsideration panel that confirmed Topalian's decisions on the SELI-related unfair labour practices complaint. Justice Walker said in his ruling that when the LRB reconsidered the SELI case, neither Topalian, Mullin nor anyone else involved in that panel should be part of the reconsideration.
The Tyee called Mullin's office asking for comment.
David Garner, a staff lawyer with the LRB, responded to the call and said Justice Walker's judicial review ruling was being appealed by the LRB and, consequently, neither the board nor Mullin would have any comment on the matter.
Setback for Historic Effort to Unionize Guest Farm Workers
Shuffled work force votes to decertify UFCW
By Tom Sandborn
Published: June 29, 2009
TheTyee.ca
Link: Web
Foreign crop pickers in Surrey made history last summer when they voted to unionize. Labour activists sensed a new pool of workers was now ripe for organizing.
But those gains are on the verge of being wiped away as labourers at Greenway Farms have filed to withdraw from the union certification won by the United Food and Commercial Workers.
If the de-certification attempt is successful in hearings slated for June 30 at the LRB, it will mark a set-back for the UFCW's multi-year drive to unionize agricultural workers in Canada. Last summer's win for the UFCW marked the first time in B.C. that migrant workers, brought into Canada as temporary guest workers under the controversial Seasonal Agricultural Worker Program (SAWP), had successfully joined a Canadian union.
However, most of the Mexican workers who supported the union drive a year ago reportedly have not been brought back this season, creating a mostly new and much more local work force at the farm.
Pro-union workers weeded out: organizer
Union organizer Lucy Luna told the Tyee that while Greenway had employed 35 Mexican workers through the federal guest worker program last year, only 12 migrant workers had been called back for this season, with the Greenway workforce topped up by hiring 28 new local Indo-Canadian workers.
Luna told the Tyee that she began hearing rumours last year among the Fraser Valley's migrant Mexican workers that employers would use their control of which workers get called back for a second season under the program to weed out union supporters and thwart drives to organize the Fraser Valley fields.
Luna said it was her impression that this selective anti-union call back procedure was being implemented at Greenway and at two other local farms where the union made headway last season.
Repeated calls from The Tyee to Greenway Farms administrator Bill Singh Sandhu were not returned.
Mark Thompson, professor emeritus at UBC's Sauder School of Business, and co-author of the Canadian Centre for Policy Alternatives paper "Cultivating Farmworker Rights" told the Tyee he was not surprised to hear the SAWP might be used to select workers who were anti-union for B.C. farms.
"I kind of figured that would happen," Thompson told The Tyee. "The system allows the employer to select employees for re-call and to explicitly de-select workers not wanted for re-employment, and there is no mechanism in the system that would allow the employee to resolve the issue. The contracts are totally one-sided."
Threats to pro-union workers alleged
Luna, originally from Mexico herself, has been working for the UFCW in its Agricultural Workers Alliance outreach program offices in Abbotsford since 2007. In an interview conducted in the union program's tiny, threadbare offices in an Abbotsford shopping mall, she said that her program serves between 50 and 60 farm workers a week, helping them with government forms, medical appointments and other needs. She said her office fields up to 500 phone calls a week.
"Many of the workers tell us that they have had their job security threatened if they talk to us," she said.
Last season, she said, Guatemalan migrant workers who attended a Spanish language church service with her were fired and sent back to their home country by a farm employer who learned the employees had associated with her.
Still, many workers take the risk of contacting her and her working partner Ravi Dhindsa in person or on the phone, and half a dozen farm workers arrived at the office looking for help when the Tyee visited for an afternoon in mid-June.
The Abbotsford office is one of nine in Canada funded by the UFCW to conduct outreach, worker aid and organizing efforts among Canada's agricultural workers. The outreach program was founded in the 1990s with a single office and the newest office, in Surrey, opened this year.
In addition to providing workers with direct help through the AWA offices, the UFCW has played a lead role in pursuing changes in the legal regime governing unionization in Canadian fields, most notably in the 2001 Dunmore vs. Ontario ruling at the Supreme Court and last year's Fraser vs. Ontario ruling, both of which recognized significant legal rights for farm workers seeking to organize.
Long drive in Fraser Valley to organize migrant workers
Farmworkers have long been seen as one of the most difficult workforces for unions to organize, and were until recently excluded from many of the protections provided by Canadian labour law.
The UFCW's attempt to organize B.C. farm workers is not the first such effort. In 1980 the Canadian Farmworkers Union was formed in B.C., kicking off more than a half decade of vigorous organizing efforts among Fraser Valley farm workers.
Although the CFU was not, in the long run, successful in building a unionized workforce in B.C. fields, its campaigns helped highlight the lack of health and safety protection for the province's farm workers and led in the early 1990s to adoption of improved pesticide and other safety regulations for the agriculture sector under an NDP government.
Raj Chouhan, who helped lead the Canadian Farmworkers Union in the 1980s, is now an NDP MLA and opposition critic on labour matters. "The Seasonal Agricultural Workers Program is not designed to help farm workers in the long run," he told The Tyee. "If workers have a dispute with the employer, they can be sent home, or not recalled in the next season. The government has clearly allowed some employers to use this program to discourage unionization."
A federal media spokeswoman with Human Resources and Social Development Canada, which administers the SAWP, responded belatedly to Tyee requests for comment on whether the program was being abused by employers who allegedly use its provisions to de-select potential union supporters. In an email sent to the Tyee office after this story had been filed, spokeswoman Julie Hahn indicated that any selective re-hiring of anti-union workers was not the responsibility of her department.
"It is ultimately the responsibility of the Mexican or Caribbean country's government to recruit and place the workers. This is done in consultation with the individual workers themselves, since HRSDC/Service Canada does not provide any input regarding the determination of which workers are chosen to participate in the SAWP or their placement."
Ontario farm workers can join unions, court rules
Tracey Tyler
Toronto Star
Nov 17, 2008
Link: Web

Farm workers across the province have won the right to join unions.
In a 3-0 decision today, the Ontario Court of Appeal struck down sections of the Agricultural Employees Protection Act, which prevent farm workers from engaging in collective bargaining.
The court said the legislation violates agricultural employees' rights to freedom of association under the Charter of Rights and Freedoms and gave the Ontario government 12 months to rewrite the law.
While most Ontario workers have had the right to join unions since 1943, farm employees have been excluded from the mainstream labour relations regime because agriculture has been considered unique - sensitive to time and weather concerns, and the need to ensure that food production is not disrupted by a strike.
The Ontario Federation of Agriculture, a farmers' lobby group that intervened in the case, warned that many family farms could not survive if confronted with union demands.
"It is arbitrary to exclude all agricultural workers from a collective bargaining scheme on economic grounds, where collective bargaining has been extended to almost every other class of worker in Ontario, even in other industries that also face thin profit margins and unpredictable production cycles," said Chief Justice Warren Winkler, who wrote the decision on behalf of the panel.
The ruling is a victory for the United Food and Commercial Workers Union. Last spring, the union brought the case before the province's highest court in the name of three of its members, Julia McGorman, Xin Yuan Liu and Billie-Jo Church, who once worked at a mushroom plant in southwestern Ontario.
The union argued that many of the province's 32,000 agricultural workers are immigrants who labour for low wages, under dirty and dangerous conditions, in an industry increasingly dominated by large-scale "agribusiness."
The Agricultural Employees Protection Act, which was introduced by the Ontario government six years ago, gave farm workers the right to form employee associations, but stopped short of allowing them to engage in collective bargaining.
Two years ago, an Ontario Superior Court judge dismissed the union's claim that the legislation violated farm workers' constitutional right to form associations. Justice James Farley said a union isn't the only way workers can band together and voice concerns.
Since then, however, the Supreme Court of Canada handed down a decision that kept the balance in the union's favour.
In its decision last June, the Supreme Court said the British Columbia government had violated the Charter rights of hospital workers by passing laws that undid portions of their contract, an interference with the collective bargaining process.
In doing so, the court effectively ruled that collective bargaining is a constitutionally protected right.
Read also: Press release by the UFCW
B.C. agrobusiness lobby launches attack on the basic right
of migrant workers to unionize
Migrants' bid to unionize contested
B.C. labour board certifies unions at two farms - but employers say labour code does not give them that right
JESSICA SMITH
The Globe and Mail
October 23, 2008
Link: Web
VANCOUVER -- The union movement among migrant workers in British Columbia is growing, with the first two farms granted certification by the labour board.
Floralia Plant Growers Ltd. became the second farm to unionize on Oct. 10. Workers on 20 more farms are now interested in joining the United Food and Commercial Workers, according to the union. However, a recent move by employers might put the relationship between migrant workers and the union in jeopardy.
The British Columbia Agriculture Council, which represents the interests of the agriculture industry, questions the right of migrant workers to unionize under the B.C. Labour Relations Code.
The council argues that the code does not constitutionally apply to migrant workers, who come to Canada as part of a federal program that operates under the terms of agreements negotiated by Ottawa with the workers' home countries.
BCAC executive director Steve Tompson said that means the provincial labour board cannot legally grant the workers' requests to join a union. "We feel there is a very legitimate question related to the jurisdiction and applicability in this situation and with respect to this particular program," he said.
Such arguments are far removed from the B.C. farm fields, where workers like Rogelio Larios are employed. Mr. Larios worked on an Abbotsford blueberry farm this season. He's saving money to help finance a handmade jewellery business to support his two daughters in Mexico. The living and working conditions on the blueberry farm are good, but he would like his farm to unionize, he said.
"He wants to have a better future for his daughters," said Jamie Block, translating for Mr. Larios. "In Mexico, where he currently lives, there is no work."
Ms. Block works at a support centre in Abbotsford for migrant workers funded by the union, which has been in close contact with migrant workers in Canada since the 1990s. Stan Raper is UFCW national co-ordinator of the Agricultural Workers Alliance, which operates seven migrant-worker support centres across Canada, including two in B.C.
"A number of workers from throughout British Columbia either call or drop in to our centres, Kelowna or Abbottsford, in order to get translation services [for] income tax, parental benefits, workers compensation cases," he said.
Nearly all of B.C.'s migrant workers are from Mexico, and few speak English. When they come to a support centre to find someone to translate Canadian bureaucracy and file their paperwork for them, they are educated about their right to unionize.
The BCAC filed its application to the B.C. Labour Relations Board on Sept. 29, asking the board to reverse the union certifications already granted. The union rejects the BCAC's argument that the right to unionize does not apply to migrant workers.
Human Resources and Social Development Canada, which administers the Seasonal Agricultural Workers Program, is responsible for bringing the foreign workers to Canada but has played no role in union disputes.
"The unionization of workers has no impact on the SAWP; it is a matter between the employer and the union," media-relations officer Jason Bouzanis said in an e-mail. "If the foreign workers are unionized, they must be offered the agreed union wage or the prevailing wage for the occupation in the region, whichever is higher."
The union and the BCAC disagree on whether the migrant workers would benefit from union representation. Lucy Luna, who runs the union's migrant workers centre in Abbotsford, said many of the farms provide poor housing conditions, and some have dangerous environments where workers are not properly trained or provided with safety equipment.
"But basically the complaint No. 1 is they want to be treated with respect, and that's why they came and they signed cards," she said.
Marcus Janzen owns Calais Farm in Abbotsford and said he doesn't think unionizing would change the basic principles the farm operates on today.
"I haven't thought about it much more than that. It's a free country, the workers can do what they want," he said.
Two Agricultural Employer Groups go to Labour Board in Effort to Prevent Migrant Farm Workers From Unionizing
Link: Web
VANCOUVER, B.C.--(Marketwire - Oct. 1, 2008) -
Two agricultural employer groups claiming to represent farm employers are going to the British Columbia Labour Relations Board (BCLRB) in an effort to prevent migrant farm workers from having the same protections that apply to Canadian workers.
UFCW Canada Local 1518 received a copy of a submission the B.C. Agriculture Council and Western Agricultural Labour Initiative made to the B.C. Labour Relations Board, in which they claim the province's Labour Relations Code, "...cannot constitutionally apply to foreign nationals working in British Columbia under the Federal Government's Seasonal Agricultural Workers Program (SAWP)."
"One would think that with the abuses of migrant workers we continue to hear about, these employers would have the basic decency to address those serious problems," said Ivan Limpright, President of UFCW Canada Local 1518. "Instead, they are trying to find ways to duck behind the constitution so they can carry on as if nothing was wrong," he said.
"That's just not right," said Limpright. "The Labour Relations Code and Employment Standards and Workers Compensation are there for every person working in British Columbia. But these employers are trying to hide behind the law and avoid responsibility, and we do not believe they should get away with this, and will be fighting to see that they don't.
"Migrant workers deserve to be protected from employers who abuse them, as does every other worker," Limpright said, "and we would much rather see these employer lobby groups spend their energy on ensuring that no abuses take place by farm employers, rather than paying lawyers to perpetuate a system that allows for easy exploitation of these workers by unprincipled employers."
"The B.C. Minister of Labour stated earlier this year that migrant farm workers are covered by the Employment Standards Act, the Labour Relations Code and the Workers Compensation Act that we have in British Columbia, and we are going to fight to make sure these basic rights are upheld," said Limpright.
UFCW Canada Local 1518 is currently awaiting the outcome of a BCLRB hearing into the fate of 14 migrant farm workers from Floralia Farms, a greenhouse operation in Abbotsford. The 14 workers were repatriated to Mexico after they had applied to join the union. Local 1518 lodged a formal complaint with the BCLRB that charges Floralia with breaching the province's labour relations code.
Hearings into the case concluded on September 29, with a ruling from the BCLRB expected early next week.
In August, workers at Greenway Farms joined UFCW Canada Local 1518, becoming the first migrant agriculture workers in B.C. to successfully join the union. That unit followed the successful organizing by UFCW Canada of two other bargaining units comprised of migrant and temporary agricultural workers: one in Manitoba, and another in Quebec.
"Both the federal ministry department that administers the SAWP, as well as the federal Attorney-General's office have agreed that these workers fall under provincial labour statutes," says Wayne Hanley, the National President of UFCW Canada.
"As for a constitutional argument, the Supreme Court of Canada ruled definitively in June 2007, on a case that came from British Columbia in fact, that Freedom of Association under the Charter protects the right to collective bargaining for of all those working in Canada."
UFCW Canada is one of Canada's largest private sector unions with more than 240,000 members across the country working in almost every sector of the food industry from field to table. UFCW Canada in association with the Agriculture Workers Alliance (AWA) also operates eight agriculture workers support and advocacy centres across Canada, which have provided assistance to thousands of workers since the first centre opened its doors in 2002.
/For further information:
Stan Raper, National Coordinator
Agriculture Workers Alliance
416-675-1104 x 232
Foreign Farm Workers Unionize: A First in BC
Seasonal labourers in Surrey claim bad conditions, vote to join UFCW.
Tom Sandborn
TheTyee.ca
August 21, 2008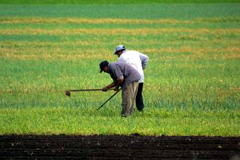 For the first time, foreign workers imported to pick B.C. crops have been allowed to join a union.
Migrant workers at Greenway Farms in Surrey have voted to join the United Food and Commercial Workers (UFCW) of Canada. The historic certification was granted with the support of more than 75 per cent of the roughly 40 affected workers. Never before had B.C.'s Labour Relations Board approved a union to represent workers brought to Canada under the federal Seasonal Agricultural Workers Program.
The Surrey certification comes on the heels of a seasonal workers contract in Manitoba and is the result of a UFCW organizing drive that began in 1995. Union sources have told The Tyee that four farms in Quebec also face the prospect of unionization.
"I am pleased to hear this," said Raj Chouhan, the NDP MLA for Burnaby-Edmonds, and the founder of an earlier attempt to unionize B.C. farms. "Workers are finally getting some protection.... We need all the support we can get for farm workers."
The Seasonal Agricultural Workers Program (SAWP) matches foreign workers, primarily from the Caribbean and Mexico, with agricultural employers who claim they cannot find Canadian employees. The program began in eastern Canada in 1966 and has been bringing Mexican workers to B.C. farms since 2004. It has been criticized, by observers who see it as a way of keeping wages in agriculture low and institutionalizing the exploitation of vulnerable guest workers, historically a group very hard to unionize.
'We've never had decent water'
"Right now, we're seeing small changes, nothing major yet," said a worker at Greenway Farms who spoke with The Tyee on condition of anonymity because he fears employer retaliation.
"Now we are hoping we will get our pay on time. We hope now we will finally get clean water. The water now isn't even good enough to take showers. Some of us are getting sick. We've never had decent water," he said, speaking through interpreter Erika Del Carmen Fuchs of the advocacy group Justicia.
The Greenway worker -- call him Carlos -- has been coming to B.C. to work since 2004. The income from Canadian farm work supports him and his family. He claims to have been unable to find work in his home country.
Asked why he was interested in joining a union, Carlos replied: "The bad treatment by the boss. We have been under a lot of pressure. For example, we don't have adequate housing and the water situation is bad. The water is contaminated and people are getting sick. The boss said he didn't have time to fix it. People were getting sick."
The owner and administrators of Greenway Farms did not answer repeated calls placed to their numbers by The Tyee.
'You do have rights'
"I always tell the workers, 'Don't let people treat you like you don't count. You may not be Canadian citizens, but you are Canadian workers and you do have rights,'" says Lucy Luna, a UFCW organizer with the Abbotsford Agricultural Workers Alliance Support Centre.
Luna, herself an immigrant from Mexico, is a veteran of five years of volunteer work advocating for farm workers in Alberta, and two more years as a volunteer in Chilliwack. Since May of last year, she has been a paid union staffer at the Abbotsford centre, part of a network of eight such worker assistance offices operated across the country by the UFCW.
She said workers at Greenway approached the union because of "unbearable" conditions at the Surrey farm. She told The Tyee that Greenway workers complained of verbal abuse and insults from supervisors, overwork, late paycheques and a general lack of respect.
"These workers were brought in later than many were this year," Luna said, "and expect to keep working until mid-December. We hope to have a contract negotiated and adopted before the end of this season."
"SAWP workers deserve the same protections as Canadian workers," said UFCW local 1518 president Ivan Limpright in Surrey. "So now we will work to secure a first contract that delivers that."
Manitoba precedent
Earlier this summer, workers at Mayfair Farms in Portage La Prairie, Man., signed the first contract by a Canadian union to bargain for migrant farm-workers. That deal will guarantee workers there a grievance procedure, a right to be recalled each season by seniority, and protections against being evicted from employer-owned housing or expelled from Canada without an independent hearing.
"We're rocking and rolling now," a jubilant Stan Raper, national organizer with the UFCW, told The Tyee. "This marks a new era for workers and unionism in Canada."
His union is one of the largest private sector unions in Canada, representing over 240,000 workers in food processing, warehousing, retailing and other sectors. After more than a decade of grassroots organizing, including the establishment of eight migrant agricultural worker support centres from Saint-Rémi, Que. to Abbotsford, B.C., Raper and his colleagues are beginning to realize their dream of representing farm workers across the country.
The union has not only conducted organizing drives and opened service centres for workers, it has also gone to court repeatedly. For example, in 2001, the UFCW won a victory in the Supreme Court of Canada, Dunmore vs. Ontario, striking down provincial legislation that excluded agricultural workers from provincial Labour Relations Act protections.
Despite the Supreme Court victory, Raper says that Ontario has yet to fully recognize freedom of association rights for farm workers, and the UFCW is currently waiting for a judgment expected next month in another fight on this topic in the Ontario courts. In the meantime, the union has been able to win access to Employment Insurance parental benefits for SAWP guest workers, who for many years were required to pay into the EI program but could not collect when they had kids.
"We helped process over $22 million in parental benefit claims for SAWP workers recently," the UFCW's Raper told The Tyee. "Our migrant worker centres helped over 30,000 workers last year."
Lucy Luna said the Greenway victory is only a beginning.
"As long as we can keep unionizing more farms, we can make a change," she said. "Numbers count. This is just a start. There are lots of farms out there. Knowledge is important. Workers need to know that they have rights in Canada."
Alberta beefs up support for temporary foreign workers
Pilot project offers immigration support services
Richard Gilbert
Daily Commercial News
July 30, 2008
Link: Web
The government of Alberta has quietly launched a new initiative to provide immigration support services to temporary foreign workers (TFWs) in the province.
The move is designed to augment already existing services.
Late last year, the Alberta government opened two TFW worker advisory offices in Edmonton and Calgary at a cost of $1 million a year.
The offices provide employment standards or help resolve occupational health and safety issues.
However, there was a gap in the service because other concerns, which fell outside employment standards and workplace safety, such as housing issues and illegal recruitment fees, were not being addressed by either the federal or provincial governments.
In an effort to fill this gap, the provincial government recently launched a $1.4-million pilot project to provide immigration support services to those workers.
"There wasn't a public launch or formal announcement, because it is a pilot project," said Jennifer Raimundo, spokesperson for the ministry of employment and immigration.
"The pilot project started last month and provided funding to nine immigrant servicing agencies in six cities, including Fort McMurray, Grand Prairie, Edmonton, Red Deer, Calgary and Brooks."
According to Raimundo, the province had previously worked with the federal government to fund immigrant service agencies, but this funding was for immigrants only.
"Temporary foreign workers are coming to immigrant support agencies for support, so they have been given funding for additional staff to provide basic services," she said.
"These services include orientation, which covers things like taking the bus, banking, grocery shopping and how to dress in cold weather.
It will also provide referrals for housing, education, legal services, interpretation and job applications."
These services are designed to enhance and compliment the work by the TFW worker advisory offices.
"The government never announced the pilot project," said Jim Gurnett, executive director of the Edmonton Mennonite Centre for Newcomers.
"They have just gone ahead and done it. Those of us getting the funding think it is a positive step."
Gurnett said it is nice for people in immigrant services to provide these services for temporary foreign workers, because some of these people are in a bad situation.
"The idea is to complement a group of their own staff (the provincial government) that deals with temporary foreign workers," he said.
"We will connect people with employer problems to the advisory offices. If the issue is language, health or housing, the advisory office will connect them with us."
The provincial government funding will allow the Mennonite Centre for Newcomers to hire four new people.
Gurnett said there is still a gap in the service provided because English classes are not covered under the pilot project.
According to figures from the federal department of Citizenship and Immigration, there were 22,392 temporary foreign workers in Alberta in 2006, more than double the 11,067 in 2003.
TFWs are employed in a wide range of economic sectors in Alberta, including oil sands operations and the construction trades.
Migrants back and forth
An anti-union environment and the threat of repatriation make life difficult for Quebec's Mexican agricultural workers

By Samer Elatrash
Montreal Mirror
Link: Web
It is a summer afternoon on a farm near St-Rémi, a half hour drive from Montreal, and columns of hunching Mexican workers trudge along rows of onions to harvest the crop. They pause when this correspondent and a photographer show up to snap pictures. Two forewomen, young Quebecers both, look on amusedly for a few minutes before shooing us away. This would be another summer of diminishing returns for Quebec farmers, and of defiance from some of their Mexican workers.
The returns of farming in Quebec are as fickle as the weather here, and this year farmers began the season with growing debt and news that the federal government wouldn't meet its promises of assistance. At le Légumière, a farm close to St-Rémi, the boss had another surprise as the summer ended, when he approached three Mexican workers who were organizing to become the first unionized migrant Mexican farm workers in the province and told them they would be sent back to Mexico the next day. One of the workers, Bonifacio Santos, never boarded the plane, opting to challenge the repatriation before the Quebec Labour Relations Commission. The Commission awarded him an injunction and will consider this week a motion filed by United Food and Commercial Workers (UFCW) Canada arguing for the migrant workers' right to join a union.
Devil may care
The owners of le Légumière refuse to comment on the case and their lawyer didn't return calls from the Mirror. Santos claims that, ever since he was reinstated, the boss has taken to insulting him before other workers, referring to him as "the devil."
"'Where is the devil?', the boss asks when I'm not around," Santos says, shrugging his shoulders. "When he approached me to send me back, he said there wasn't enough work, and that was good enough reason. But he's never done that before. The way they repatriate us is unjust, and I want to say: 'No, this is not right." Over the summer, Santos had gone on St-Rémi's radio station asking for better conditions for the estimated 4,000 migrant workers who came to Quebec this year—3,000 from Mexico, and others from Guatemala and the Caribbean.
Some 150,000 Mexican workers, many from farming communities in the Mexican states of Morelos and Pueblo, have come and gone on a seasonal agricultural workers' agreement between the Canadian and Mexican governments since it began 32 years ago, says the Mexican consulate in Montreal. The workers, most family men, some teenagers and some well into retirement age, might work every day of the week at the height of the season, making enough money to cover their debts in Mexico (many workers, especially the newcomers to the program, come saddled with debt) and to send remittances to their families.
Santos is sitting behind a large table in the meeting room of the radio station, which the UFCW organizers have turned into a makeshift office for the evening. The radio station is across a parking lot from a Provigo. Every Thursday and Sunday, buses bring in Mexican workers from their lodging on surrounding farms to shop at the Provigo, and the workers, dressed in their finest shirts, then stroll out into the lot pushing carts of bread, milk, chips and hot dogs. Every Thursday and Sunday, the union organizers hand out leaflets and go through paperwork brought to them by workers. This evening, two UFCW organizers sit at the end of the table labouring through a thicket of tax and medical forms, surrounded by tired looking workers. All comes to a standstill when Santos, a charismatic man in his 30s who holds the respect of the other workers in the room, thumps the table when asked why migrant workers need to unionize.
"[The people at the Mexican consulate] are a bunch of liars," Santos says. "Workers aren't content if they're tempted to unionize. Ask the consulate how many ill workers they sent back without support or benefits. Ask them how many times they have visited the farms to see the conditions of the workers."
Negotiation without representation
Fernando Borja, the Mexican consular official stationed in Montreal to oversee the migrant labour program, says most workers are happy with their conditions. "The Ministry of Labour in Mexico took a poll of workers in Mexico, and 91.2 per cent say they're happy," according to Borja. However, a 2003 poll conducted in Mexico by the North South Institute suggests 60 percent of surveyed workers supported unionizing in Quebec.
Borja says the Mexican government constantly negotiates the contract with the Canadian government, increasing their wages over the years to $8.50 an hour. When a farm boss has a problem with a worker and wants to repatriate him, Borja is the person whom an employer should approach. He says the consulate takes no sides in these conflicts. "We don't make decisions based on accounts from employees," he says. But, "We also talk to the worker to see who's saying what."
However, Borja says the first time he heard of Santos's case was when he learned Santos hadn't boarded the plane back to Mexico. In that case, he wasn't approached, he says, because Santos was being sent home on grounds of lack of work, and he has learned the details from Santos's lawyers. "It wasn't a repatriation per se," he says. "But apparently he was the one doing union activities."
In the summer, another worker was repatriated shortly after he complained about his conditions in a radio interview, UFCW organizers say. Borja says he hasn't heard of that case, nor of the worker who was sent back after it was discovered he had developed a hernia while in Quebec, according to the UFCW.
Borja refuses to take a position on unionizing, although he says, "If the Canadian government decides this is too much trouble, that the workers are not happy, that could be bad for the workers."
Protection lacking
The UFCW says it has to intervene. "I've never in my life seen a contract negotiated without the involvement of workers," says Louis Bolduc, assistant director of UFCW Canada. "These people have a right to be represented and to join a union. Most farmers are good employers. But some others, they treat the workers as garbage." UFCW organizers and workers who spoke to the Mirror say many of them don't trust the Mexican consulate, which they accuse of usually siding with the bosses, and workers face problems that remain outstanding and ignored. "The migrant workers want to see the contracts respected, have proper wages and housing should be respectable," says Bolduc. "Sometimes the workers are sent to the field an hour after the chemicals are placed," he claims.
René Mantha, who heads Foundation of Companies for the Recruitment of Foreign Labour, an association of more than 300 farms in Quebec that hire migrant labour, says unionizing workers threatens Quebec agriculture by increasing production costs. "There are no unions in agriculture elsewhere," he says. "How can we compete?"
Mantha says he was surprised to hear Mexican workers were calling for a union. "These workers have good conditions," he says. "They're paid more than minimum wage, they come back every year. No one forces them to come back." Quebec farms need the migrant workers because, "There are no Canadians available to do this job," he says. "They have the choice to do something else. We can't force anybody to work in agriculture.
"I don't think consumers are preoccupied by these questions," he says. "They're looking for the cheapest price."
80 Mexican migrants deported from Vancouver
Workers promised jobs in Canada had paid up to $3,000
Andy Ivens
The Province
Tuesday, June 24, 2008

Eighty Mexicans who were cheated into paying up to $3,000 each on the promise of a job in Canada were deported from Vancouver yesterday after spending a weekend in detention centres.

The migrants arrived at Vancouver International Airport on a flight from Mexico on Friday, but didn't have the proper documentation to enter the country, Canada Border Services Agency spokeswoman Faith St. John confirmed.

"All 80 Mexican nationals were refused admission to Canada," St. John said yesterday.

"It's not unusual to refuse admission to someone, but it is unusual for a group in such large numbers to come on one flight."

Juan José Salgado, deputy consul-general for the Mexican Consulate in Vancouver, said the migrants, mainly from the central Mexican state of Hidalgo, were hoodwinked.

"A person in Mexico told these guys that there were opportunities for working in Canada and they had to pay some money to come to Canada," he said.

"I think these guys paid between $1,500 and $3,000 for the trip and the possibility of a job here in Canada," said Salgado.

The average per-capita income in Mexico is $12,500.

While illegal migration from Mexico into the U.S. is a well-known problem, Salgado said: "This is new in the case of Canada."

"They had passports, so they thought everything was OK," he said.

Salgado said a Mexican tour operator "made all the arrangements through legitimate tourist agencies."

"When they arrived in Vancouver, Immigration [authorities] realized they didn't come to Vancouver as tourists and they were cheated by somebody in Mexico," he said, adding it appears the migrants were told someone would contact them in Vancouver with the proper documents to work here.

An investigation by the authorities in Mexico is under way, said Salgado.

The Mexican and Canadian governments are working on programs to bring temporary workers to Canada, but these migrants did not go through proper channels, he said.
---
Eighty Jailed and Sent Home
Mexicans seeking work tricked, detained, deported.
By Tom Sandborn, TheTyee.ca
Published: June 25, 2008
A desperate journey in search of work and a better future in Canada turned into an expensive, dead end nightmare for 80 Mexican citizens.
The situation threw into sharp focus the need to reform Canadian immigration policies, according to labour and immigrant advocates.
The Mexican farmworkers and their families arrived at Vancouver International Airport on Friday, June 20. They were denied entry and were returned to Mexico on Monday the 24th after spending the weekend in jail.
The group was reportedly lured to Canada by unscrupulous labour brokers in their home country who had promised them lucrative work in B.C. agriculture. The brokers exacted fees of over $4,500.00 a head to make work and travel arrangements. The Mexicans were denied entry into Canada, held in detention over the weekend and returned to Mexico on Monday morning.
Apparently, none of the detainees possessed visas or other documents required of temporary workers entering Canada.
Jailed and returned
Sources close to the situation told The Tyee that the detentions created overcrowding in at least one Lower Mainland facility, with male detainees sleeping on a gym floor. Women and children were held in another facility.

"I can confirm that 80 Mexican nationals arrived at VIA on Friday and were denied entry to Canada," Faith St. John, a spokeswoman for Canadian Border Services Agency told The Tyee. "They were detained over the weekend in various facilities around the Lower Mainland and sent back on Monday morning."
St. John said that travelers wanting to enter Canada are responsible for satisfying the CBSA that they meet entry requirements. While declining, for privacy reasons, to comment on any specific case, St. John told The Tyee that many factors can be involved in determining traveller admissibility, including criminal activity, human rights violations, organized crime involvement, health, security and financial status.
"In calendar 2007, 16,345 individuals were denied entry into Canada at the 43 land, air and marine ports in the Pacific region," she said. "From April 1, 2006, to March 31, 2007, CBSA denied entry to 84,834 applicants at entry ports across Canada."
'No government watchdog'
"This is a horrible story on a number of counts," Angela Schira, secretary treasurer of the B.C. Federation of Labour, told The Tyee. "These people have lost so much. They came with their families, hoping to start a new life. Then the families were divided over the weekend of detention. Now their names are on a list of people who tried to enter Canada illegally, which will make it very difficult if they ever try to come here again.
"Our government has essentially privatized our immigration policy, making abuses like this possible. There is simply no government watchdog on this matter, and stories like this are bad for Canada's reputation. "
Schira said that the B.C. Fed doesn't agree with the temporary guest worker programs conducted by the federal government, whether they are for agricultural, service or other sectors.
"We support expanded immigration, with recruitment happening in Canadian embassies and consulates, not through private sector agencies," she said. "But as long as the foreign worker programs are in place, the province should at least provide some official services and support for the workers, as Alberta and Manitoba do."
'Wild West situation'
"My heart breaks for these people," Lucy Luna told The Tyee. Luna is the B.C. co-coordinator of the Agricultural Workers Alliance Support Centre, a non-profit organization funded by the United Food and Commercial Workers union.
"These people were lied to. They were told they were coming to Canada legally. There is nowhere near enough regulation and supervision of labour contractors. It is a Wild West situation out there."
The Tyee made repeated calls to the Mexican consulate in Vancouver to seek comment for this story. The calls were not returned.
Approximately 3000 Mexican workers are expected to enter B.C. legally as temporary agricultural workers this year under federally sponsored programs, Luna said. This is roughly the same number who entered last year. Rainy weather and a slow season so far have left many Mexican workers who have qualified under the federal program still waiting in Mexico for the call to come work the B.C. fields.
Mexico's vulnerable unemployed
Some activists who work with agricultural workers say that the programs set up by the federal government to legally bring temporary farm workers to Canada from Third World countries are unfair.
Adriana Paz, a member of Justicia/Justice for Migrant Workers BC, argued in a recently posted Internet essay:
"SAWP and other temporary worker programs take advantage of the huge surplus of cheap labour in Mexico that NAFTA helped to create. Through temporary worker programs, governments of both Mexico and Canada aim to manage the flow of migrants to the North for the benefit of local business elites, while stripping workers of rights and liberties.
"The result is to create in this country an underclass of workers, an underclass of human beings stamped with the labels of 'foreign,' 'undocumented,' 'unskilled,' and 'temporary.' Meanwhile it relieves the Mexican government of responsibility to ensure healthy rural and urban development throughout the country."
Harsha Walia, who speaks for the Vancouver group No One Is Illegal agrees.
"It is easy here to focus on the role of the labour contractor in Mexico, but the larger problem is the way the government of Canada functions as a glorified temporary work agency for employers. We call for the abolition of all guest worker and temporary worker programs. They cannot be reformed. Exploitation is inherent. From a human rights and labour rights perspective, the solution is to abolish border and travel controls altogether," she told The Tyee.
'Indentured servitude'
The Canadian Centre for Policy Alternatives think tank recently published a study entitled "Cultivating Farmworker Rights" that is highly critical of conditions faced by agricultural workers in Canada, and of the federal program that brings guest workers into the country. It argues, in part:
"The Seasonal Agricultural Worker Program (SAWP), a federal-provincial program B.C. joined in 2004, brings a growing number of primarily Mexican migrant workers to Canada under conditions that amount to indentured servitude. Migrant workers are often housed in substandard conditions, are not allowed to choose who they will work for, and cannot stand up for their basic rights without fear of being sent home."
Migrant farm workers sign first collective agreement
CBC News
June 25, 2008
Link: Web

Migrant workers at a farm in Portage La Prairie have agreed to a three-year collective agreement, the first of its kind for migrant workers in Canada.
In a landmark decision last June, the Manitoba Labour Board certified the United Food and Commercial Workers at Mayfair Farms near Portage la Prairie, making its approximately 60 employees, mostly from Mexico, the first unionized group of foreign farm workers in Canada.
The new agreement, signed June 20, includes wage increases in each year of the collective agreement, with the first increase retroactive to April 21. It also provides the workers with recall rights, a grievance procedure and a new system for allocating overtime pay.
The contract could improve the ability of farms to attract migrant workers, said Robert Ziegler, president of UFCW local 832.
"As a union, we're trying to find good working conditions and make improvements," he said.
"Is it possible that other farms could get involved? Absolutely. But really, we went into this not to try and build our numbers, but to try and represent and improve the quality of life."
The union applied for certification at the farm in September 2006, saying more than 65 per cent of the workers had signed union cards, which under Manitoba law entitles the group to automatic union certification.
Mayfair Farms argued the case fell under federal jurisdiction because the workers are brought to Canada through a federal program. But in its decision, the board determined the provincial Labour Relations Act did apply to the workers and Mayfair Farms was their employer.
A month after the union applied for certification, 43 of the workers signed statements saying they had been misled by the union and did not want to join. But the labour board was not swayed by their objections, saying they did not allege misconduct.
The workers can apply to decertify their local, but only after their first collective agreement has been in place for one year.
Ziegler said the Mayfair contract is a major step forward in providing equal labour rights for migrant workers in Canada.
Negotiations are currently underway in Quebec for migrant farm workers who also joined the UFCW last year.
Canadian public support for foreign worker program waning
More than half of Canadians oppose recruiting temporary workers overseas to boost workforce
Apr 25, 2008 04:30 AM
Nicholas Keung - Toronto Star
Link: Web
More than half of Canadians are opposed to recruiting temporary workers overseas to help ease Canada's labour shortage, says a national poll released yesterday.
The Angus Reid poll for the Asia Pacific Foundation of Canada, a Vancouver-based think-tank on Asia, also found the majority of Canadians continue to welcome immigrants from Asia, though the goodwill has been waning, especially in Quebec, where support for Asian immigration has plummeted from 83 per cent a year ago to 44 per cent today.
While 60 per cent of respondents believe the rise of China is more of an opportunity for Canada than a threat, two in three raised concerns over Beijing's growing military modernization in the Asia Pacific region, according to the wide-ranging survey.
Of all the provinces, support for the federal government's temporary foreign worker program was highest in Alberta (58 per cent), Manitoba/Saskatchewan (55 per cent) and British Columbia (49 per cent).
However, in Ontario and Quebec, where people have been affected by a recent economic downturn and job losses, only 39 per cent of people were in favour of the program. Nationally, only 44 per cent supported the temporary worker program.
"Support for globalization tends to follow the state of the economy, and the survey results reflect current concerns about economic conditions," said Yuen Pau Woo, the foundation's president and co-CEO.
Although twice as many people – 59 per cent in favour to 31 per cent opposed – believed Canada would benefit from more Asian investment, 64 per cent also wanted Canada to restrict government-controlled foreign businesses in the country.
More than 70 per cent of Canadians, including 77 per cent of Quebecers and 71 per cent of Ontarians, said Canadian industries should be protected from imports from countries with very low wages. Only 18 per cent of Canadians feel that food products imported from China are as safe as those from other developing countries.
Over the sensitive human rights issue in China, only 37 per cent of Canadians feel that the condition there is better today than a decade ago, a drastic fall from a similar poll in 2006 when 63 per cent of people felt things were improving there.
"Canadians are clearly aware of the increasing economic and strategic importance of China. But at the same time, they are increasingly concerned about the challenges that the rise of global China poses," said foundation co-CEO Paul Evans.
"The chill in public perceptions is making the management of bilateral relations more complex than at any time since the Tiananmen Square incident in 1989 and is testing political leadership in Ottawa."
The survey of 2,659 respondents was conducted across the country and statistically weighted on education, age, gender and regional census data. It was taken between March 15 and 20, immediately after the Tibet uprising in China. The margin of error is plus or minus four percentage points.
The foundation is a not-for-profit organization established to promote research on economic, security, political and social issues in the Asia Pacific. It is funded through an endowment from the federal government and a grant from British Columbia.
Mexican Migrant Workers File Complaints with UN Rapporteur
Canada's image as a safe and secure destination for foreign temporary workers is under fire, critics say
By Michelle Collins
Embassy, April 9th, 2008
The government has been working hard in recent years to expand the number of temporary foreign workers who are allowed into Canada to ease what appears to be a growing labour shortage across the country.
But Canada's image as a great place to work and earn a living is being threatened as migrant workers from Mexico who say they are being mistreated are now reaching out to a United Nations special rapporteur for help.
In an interview last month, Jorge Bustamante, UN special rapporteur on the human rights of migrants, told Embassy that over the past six months, he has received about a half-dozen letters directly from Mexican migrant workers in Canada.
In the letters, the workers claim they are not receiving their proper wages and that their freedom of movement is being restricted.
The special rapporteur on the human rights of migrants position was established in 1999 by the former UN Commission on Human Rights.
The rapporteur's role is to enforce the full and effective protection of the human rights of migrants, and in some instances visit countries to further enforce legal frameworks in the interest of migrants.
Mr. Bustamante, who was appointed to the position in August 2005, said that before receiving the letters, he had thought the bilateral migrant worker agreement between Canada and Mexico, inked in 1974, set a good example, but now he has the opposite impression.
"The only thing is my feeling of regret that something that for so many years has gone on without complaints, now all of a sudden there are complaints," he said.
"This is something that was actually quite new to me, because before that I had the opposite impression [of Canada]. But recently I have heard reports from migrants in Canada that have complained about abuses of not allowing them to move from one job to another, their wages and things of that sort."
B.C. looking beyond Mexico to find fruit pickers
Thousands of workers from the Caribbean
will also head north this season
Vancouver Sun
March 27, 2008
Link: Web

To cope with a continuing shortage in apple and cherry pickers, B.C. fruit growers are expecting to hire about 50 per cent more temporary foreign workers than they did last year.
And in an attempt to diversify this expanding pool, they are reaching beyond Mexico to find similar workers from the Caribbean.
Mike Wallace of the Western Agriculture Labour Initiative (WALI) said that while a contract with workers from Mexico is going into its fifth year, a new one with the Commonwealth of Carribean Islands was only hammered out at the end of July 2007.
By then, last year's picking season was already in full swing, so only 10 workers from the Caribbean were brought to B.C.
In total, Wallace expects that up to 3,000 workers from Mexico and the Carribean will be needed in B.C. for the 2008 season.
Last year, the final tally approached 2,200.
While 95 per cent of these workers will still be from Mexico, Wallace said that "you don't want to have all your eggs in one basket. There could be changes in politics or whatever."
However, he added that various bureaucratic stipulations make it difficult to look to other countries for seasonal agricultural workers.
B.C. fruit growers first started using temporary foreign workers in 2004, when the program was launched with just nine employers who hired 47 people from Mexico. By 2007, more than 200 employers were involved. "So, there has been phenomenal growth," said Wallace.
WALI was started two years ago based on a template used in Ontario and Quebec to bring much larger numbers of temporary foreign workers there.
Wallace noted that Jamaica now has a liaison office in Kelowna. Other countries in the Commonwealth include Trinidad and Tobago, Barbados and the Organization of Eastern Caribbean States: St. Martin, St. Vincent and St. Lucia. The first 10 workers last year, for example, were all from St. Martin, even though the Caribbean contract with B.C. is negotiated with all countries in the block.
Meanwhile, in Alberta, a labour-starved town is considering bringing in video-conferencing technology and a Spanish-speaking priest -- all in an effort to make life more comfortable for temporary workers from Mexico.
The first of more than 200 workers from the Chipala region, west of Mexico City, are due to arrive in Barrhead, Alta., about 100 kilometres northwest of Edmonton, where they will fill vacant jobs at BarrCana Home Manufacturing.
"These guys want to come right now and we want to bring them right now," BarrCana vice-president Richard Hadjuk said.
"But we don't want them to wake up in the morning, go to the plant and come back to their rooms. We want them to have a more satisfying experience."
The idea of bringing foreign workers from around the world to Alberta is not new. More than 1,200 Mexicans, for example, are already working in factories, restaurants, and the oilpatch.
The workers headed for Barrhead will earn $14 to $16.53 an hour at the manufactured-home plant, which is designed to produce about four to six houses a day. It currently operates with about 200 workers, but needs 450.
"In Mexico, they live on $400 to $800 a month, and these are people with families of four or five kids," Hadjuk said.
The company has constructed a camp for the Mexicans at the plant site, where they will live three to a room -- except for married couples, who will have a room to themselves.
Rents will be $400 and workers will buy their own food, which the company will purchase in bulk.
Overloading, other safety violations caused deadly
Chilliwack van crash: report
Operator could face penalty of up to $500,000
CBC News
Thursday, February 7, 2008
Link: Web
A wide range of safety violations contributed to a deadly van crash in Chilliwack in March 2007 that killed three farm workers and injured 14 others, investigators allege.
Passenger overloading, poor tire maintenance, the lack of seatbelts, inadequate driver qualification, road conditions and vehicle instability all played a role in the incident, concluded the investigation released by WorkSafeBC on Thursday morning.
Roberta Ellis, the vice-president of the policy, investigations and review division of WorkSafeBC, said they are considering a penalty against the labour contractor who employed and transported the workers to farms in the Fraser Valley.

"The law allows for an administrative penalty of up to half-a-million dollars and so that's the next stage for us. Orders are issued to the employer, the employer is advised the officer is recommending a penalty," said Ellis
The employer now has 70 days to file an appeal, said Ellis.
The report has also been submitted to the B.C. Coroners office, which is expected to conduct its own inquest later this year.
The 15-passenger van owned by RHA Enterprises Ltd was carrying 16 farmworkers plus the driver when it crashed on Highway 1 in Chilliwack during the early hours of March 7, 2007.
"The vehicle collided with two transport trucks, rolled and landed on its roof on the highway median. It was raining heavily at the time, visibility was poor, and the roads were very wet," said the report.
"The driver of the van held a B.C. Class 5 driver's licence; however the Motor Vehicle Act requires a commercial Class 4 licence to operate a commercial vehicle transporting more than 10, but fewer than 25 workers," said the report.
Housing farm workers an issue
Paul J. Henderson
The Chilliwack Times
Friday, December 21, 2007
Link: Web
Chilliwack's first on-farm accommodation for seasonal farm workers will be created at Rainbow Greenhouses in the new year, but the owner's neighbours are less than enthusiastic about the idea.
"I'm not very excited about this project," Bob Esau said at a public hearing in council chambers Monday. Esau lives directly across South Sumas Road from the respected farm operation run by Stan Vander Waal.
"The major concern is we are small lot acreages, and to be inundated by 30 workers," Esau said. "Who controls these workers after they are not working? That's a lot of people to put into a rural situation."
The proposal is to convert an existing storage building into accommodation for up to 30 seasonal farm workers from Mexico and the Caribbean that are needed for Vander Waal's 31-acres of heated greenhouses under production. Rainbow Greenhouses currently employees more than 120 people brought in daily, but from the middle of February for eight months or so, Vander Waal wants to use the federal Seasonal Agricultural Workers Program to get consistent work from about 30 employees.
But neighbours are concerned about having the workers on site, particularly because the building to be converted is near the front of the property on South Sumas across the street from neighbours.
Vander Waal tried to put neighbours' concerns at rest explaining that he lives on the property himself with his wife and children.
"We have to live on the property with them," he said. "They have to conform to the rules of the property. If there are problems they have to live by the rules or we send 'em back."
Council eventually unanimously supported the Temporary Commercial Industrial Permit requested to allow for the housing, which will be revisited in two years so council can "look and ask, 'did it work,'" Mayor Clint Hames said. Coun. Sharon Gaetz suggested whatever is done should be the least disruptive as possible, and she also expressed her concerns over "some dreadful experiences" at other farms in the community where farm workers were housed.
However, because of Vander Waal's reputation, his living on the property as a family man, she was supportive and suggested he had a vested interest in seeing it go right.
"He's probably the best candidate to try to pull it off," she said. In September the issue of housing farm workers came to council as a staff report on housing for seasonal farm workers. It addressed approximately five nursery/greenhouse operations in Chilliwack that employ foreign workers, some in less than ideal circumstances.
Sixteen occupants were reported in one house in a bylaw complaint from 2006. Another rents local motel rooms, and a local crop farmer has converted a barn to house as many as 30 people and has built bunkhouses for even more with multiple cooking areas.
Currently the Indo-Canadian community is doing a lot of the work needed to be done by Fraser Valley agricultural operations, but given the hot economy, many are moving on to other work and are not available for the fields. Young people too just don't want the work anymore.
"We are looking at in Chilliwack as many as 1,000 to 2,000 [seasonal farm workers] in the future," Vander Waal said in September. "We find it increasingly more difficult to bring in the amount of people we need to get the work done." Coun. Mark Andersen supported Vander Waal's application at Monday's meeting, although during the discussion he suggested he was of two minds on the issue because of a personal experience he had many years ago where his property backed onto a farm where seasonal workers loitered after work.
"We had to endure seasonal workers," he said. "We basically became prisoners within our house because whenever we would step out onto our patio we had to endure 30 to 35 Indo-Canadian men staring at my wife."
© Chilliwack Times 2007
Response from Justicia for Migrant Workers BC to this article:
January 3, 2008 – Justicia for Migrant Workers would like to express its disgust with the language used in the Dec. 21, 2007 article in the Chilliwack Times Housing for Farm Workers an Issue.
We believe the comments included in the article are offensive to the dignity of migrant and Indo-Canadian farm workers, and furthermore demonstrate a disturbing trend of racism, discrimination and intolerance that appears to be all too common in conservative Fraser Valley communities.
For example, in reference to the possibility of having 30 migrant workers, presumably Mexicans, living across the road from him, Chilliwack resident Bob Esau is quoted as saying "Who controls these workers after they are not working? That's a lot of people to put into a rural situation."
Migrant workers, like everyone else, are free human beings entitled to do whatever they want, short of breaking the law, on their free time. The suggestion that they should be "controlled" when they are not working is outrageous and recalls attitudes similar to those of plantation owners when speaking about slaves. It is racist, repugnant and highly offensive.
The owner of a farm on which worker housing is to be built, Stan Vander Waal, is quoted as saying migrant workers "have to conform to the rules of the property. If there are problems they have to live by the rules or we send 'em back."
Again, this language is suggestive of migrant workers as slaves with no rights. First of all it is not the employer who sets the "rules." In the case of migrant farm workers it is the responsibility of the governments of Canada and Mexico to set and enforce the guidelines that govern the program, and which both employers and farm workers must follow. Furthermore it would be a grave injustice for an employer to have the right to arbitrarily deport a worker if he should deem the "rules" are not being followed, particularly in the absence of fair and neutral mediation.
It is our experience from our work on the ground that most of the time under the Seasonal Agricultural Workers Program it is the employers who "break the rules", whether they be housing guidelines or terms of the work contract, and they are rarely, if ever, subjected to any sort of punishment for this. On the other hand workers who voice any concerns on issues of safety, housing, abuse, health, etc. are routinely punished by being threatened, deported and/or blacklisted.
Chilliwack Councilmember Sharon Gaetz is quoted as having concerns over "some dreadful experiences" with farm worker housing in the community. We can only surmise she means from the perspective of farm workers themselves, who often have to endure slum-like housing that would shock the average middle class Canadian, and that is completely unacceptable in a country such as this one.
Another council member, Mark Andersen, recalls a personal experience in which he and his family "basically became prisoners within our house because whenever we would step out onto our patio we had to endure 30 to 35 Indo-Canadian men staring at my wife." Once more, these comments suggest unacceptable racial and ethnic stereotyping, and it is shocking and shameful that in this day a person of authority would utter such words.
Comments like these, and the deep seated attitudes they reflect, are what one would expect from 1800's deep south plantation owners, and it is a sad but all too real fact that they persist and are entrenched to this day in some retrograde sectors of Canadian society.
The reality is that farm workers, be they migrant or Indo-Canadian, endure the abysmal wages, living and working conditions of Canadian farms because they have to, and because the agricultural industry demands it. That these conditions persist in a supposedly rich country such as Canada is a continuing outrage and source of national shame. It is with sadness that we feel compelled to remind the people quoted in this article, and those who share their views, that farm workers are not slaves or indentured serfs. They are entitled to every single human right, and all the dignity and respect, in the highest current universal human and labor rights standards, including the U.N. Convention on the Rights of Migrant Workers (even if the Canadian government, in defiance of the global consensus, refuses to sign it).

British Columbia Federation of Labour condemns
expansion of temporary worker program
Government fails to address rights of vulnerable workers
January 14, 2008
Vancouver-Today's latest expansion of the temporary foreign worker program means continued exploitation of foreign workers and fails to address the rights of vulnerable workers, says the B.C. Federation of Labour.
Despite previous calls from the Federation and other groups concerned about the exploitation of these vulnerable workers, again the federal government has failed to dedicate resources to enforcement and monitoring of fair housing and labour standards for temporary workers," said Federation President, Jim Sinclair.
" The federal government is rushing forward with a blind eye to the exploitation of workers despite repeated instances across Canada, where workers have been forced to pay thousands of dollars to so-called labour brokers. Or look here in BC, where even the BC Human Rights Tribunal has found that foreign workers employed on the RAV line construction project were victims of intimidation and coercion by their employer."
Sinclair also took the provincial government to task for failing to act, despite its mandate to monitor employment standards. "The provincial government has openly endorsed every expansion of this program, but also look the other way when it comes time to enforce standards. Even in Alberta, the provincial government has launched a special office to enforce employment standards and investigate complaints by foreign workers. It's time to do the same here in BC."
Sinclair reiterated the Federation's view that a long term labour force strategy should include immigration, with full rights for all workers. "On one hand we're seeing thousands of jobs disappear from the resource and manufacturing sector, but yet there's no discussion of where our economy is going and what the future holds for these displaced workers."
According to Statistics Canada's latest labour force data, BC lost 33,700 full time jobs in December 2007, and despite gains in part-time jobs, BC lost a net 7,000 jobs compared to the previous month.
Ottawa expands foreign worker program
Brian Morton
Vancouver Sun
Tuesday, January 15, 2008
The federal government has announced an expansion of the Temporary Foreign Worker Program that adds 21 new occupations -- including some in the construction and manufacturing sectors -- to a list that employers can access.
"We're making it faster to hire foreign workers when no Canadian citizen or permanent resident can be found to do that job," Human Resources Minister Monte Solberg said in Vancouver Monday when announcing the expansion.
"[B.C.'s] strong economy has resulted in a significant labour shortage. Without these workers, deadlines won't be met. We want to cut the bureaucracy and paperwork, not to shortcut the process."
He said processing times will be reduced to five days.
However, the executive-director of the B.C. and Yukon Building and Construction Trades Council said program not only undercuts B.C. workers' wages but is a recipe to exploit vulnerable workers.
" When you increase the wages, workers will come," said Wayne Peppard in an interview following Solberg's announcement. "Is there really a shortage of workers? We don't believe it's as acute as people think. We have workers in New Brunswick who would love to come to B.C. But if a company can go offshore and bring people here to work for less money, that's how they bring down labour costs. And it's getting in the way of the free market. [They're saying] it's okay when we're making money, but when we can't we want intervention."
Peppard maintained he is not opposed to foreign workers coming to Canada to work for fair wages, enjoy safe working conditions and have the right to become citizens, but said temporary foreign workers are vulnerable because they're indentured to one employer. He said some employers intimidate migrant workers to accept very low wages and poor working conditions.
Solberg, who said there are now about 100,000 temporary foreign workers in Canada, denied the program will keep wages down. "That's not borne out by the evidence. Wages are rising in this country." Solberg said the TFWP is an important way to meet B.C.'s labour shortage and that the Expedited Labour Market Opinion pilot project that makes it quicker for employers to hire foreign workers will be expanded. "The 33 occupations now included in this pilot represent 50 per cent of the total volume of labour market opinion applications from employers."
He said the pilot will run until September and that employers needing workers in the 33 occupations will receive Labour Market Opinions -- an assessment of the potential impact hiring a foreign worker will have on Canada's labour market -- much faster.
It originally covered 12 occupations, mainly in health care, hospitality and construction, but now includes more occupations in construction, as well as engineering, maintenance, sales and service and manufacturing.
New occupations include construction labourers, steamfitters and pipefitters, ironworkers, heavy-duty equipment mechanics, machinists, civil engineers, hotel front desk clerks, courier drivers, meat cutters, welders and roofers.
B.C. economic development minister Colin Hansen welcomed the project Monday, saying the province is short of workers and will need to attract 30,000 workers with specific skills each year to meet the labour shortage.
Manley McLachlan, president of the B.C. Construction Association, said: "The challenge is huge. But it won't be [alleviated] with one fix."
Asked if a growing reliance on temporary foreign workers might make young British Columbians think twice about a career in the trades, McLachlan replied: "The real message is there will be 35,000 openings [in the next five years]."
Canadian Labour Congress to Ministers Solberg and Finley:
Where are the Filipino 11?
Temporary Foreign Worker Program Should Be Suspended
OTTAWA, ONTARIO--(Marketwire - Nov. 27, 2007) - The Canadian Labour Congress calls for an immediate moratorium of the government's Temporary Foreign Worker Program until a comprehensive investigation of identified abuse and exploitation cases takes place. Full suspension of this program is necessary as the government officially acknowledges that it cannot "monitor the working conditions offered by the employer following entry into Canada" - that it cannot protect these workers.
Over two months ago, Canada's poorly regulated Temporary Foreign Worker Program (TFWP) enabled a labour broker to lure 11 skilled trades' people to Canada for non-existent jobs.
Those workers - known as the "Filipino 11" - became indentured labour after having to pay over $10,000 each in so-called administrative fees to labour brokers and intermediaries that thrive within the unregulated margins of the TFWP.
Canada's guest workers - not such a warm welcome
Nov 22nd 2007 | MONTREAL
From The Economist print edition
The temporary foreign workers pouring into Canada are often exploited
Illustration by Claudio Munoz
TIMES had caught up with the sprawling brewery in the town of Barrie, an hour's drive north of Toronto. Canadians were drinking less and less beer, especially the traditional mass-produced brands. So Molson, the biggest of them all, closed the brewery and sold the property. The new owners were soon pandering to a different vice—marijuana. When police raided the plant in 2004, it was producing four crops a year of 30,000 high-grade, hydroponically-grown plants, worth around C$100m ($102m).
Along with the "pot jungles" set up in 40 mammoth brewing tanks, police found a dingy windowless dormitory and living quarters for dozens of workers. The only people charged were nine "gardeners"; the owners escaped prosecution. They may be less lucky next time. The police have launched a new investigation into a bottled-water business they are now running out of the old brewery, involving another fast-growing, but even shadier, area of Canada's economy—the exploitation of temporary foreign workers.
Among the staff at the factory, police found 11 Filipinos, lured to Canada with the promise of jobs paying up to C$23 an hour. Some sold their homes or took out loans to cover C$10,000 or more in fees demanded by labour brokers. But once in Canada, they were "sold" to unscrupulous employers, kept in an isolated rural house, and forced to do menial jobs earning—if paid at all—a fraction of what they were promised. "They were economic slaves," said a Barrie policeman who chanced upon them: "It turned my stomach."
Canada's Temporary Migration Program: A Model Despite Flaws
By Tanya Basok
University of Windsor
November 2007
Interest in temporary migration programs has been rising across the globe. Economist Manolo Abella conservatively estimates that, since 2000, the temporary migration of foreign workers into high-income countries has grown at about 4 to 5 percent a year.
Compared with permanent forms of migration, policymakers consider temporary migration more attractive for a number of reasons. In particular, temporary migration permits greater flexibility in the labor market and can seem more acceptable to electorates that find permanent immigration "threatening."
Also, a legal channel for labor migration can reduce flows of unauthorized immigrants. A less considered reason among destination countries is the development impact of migrants remitting income.
The Canadian Seasonal Agricultural Workers Program (SAWP), which began over 40 years ago, is Canada's flagship temporary migration program (the newer Low Skilled Workers Pilot Program operates on a much smaller scale).
Widely recognized as one of the better administered temporary migration programs, SAWP involves multilateral cooperation between governments of origin countries and the Canadian government, and has stable and predictable levels of workers.
Bus carrying South Asian farm workers is stoned in Surrey, BC
On Sunday October 7, 2007, at 6:30 am, a bus carrying South Asian farm workers was attacked with stones in Surrey, BC, by white males.
The media has reported this attack together with the beating on Wednesday, October 10, of two South Asian seniors in Bear Creek Park in Surrey, again by a group of white males. The assault took place in the same park where two South Asian seniors were beaten to death by white males in July 2005.
Community members have claimed these recent attacks are racially motivated hate crimes, although police deny this.
Links to stories:
CBC
Canadian Press
Vancouver Sun
J4MW Statement of Solidarity
Regarding recent attacks against South Asian farm workers in Surrey, and the growth in anti immigrant sentiment in Canada
October 16, 2007 - Justicia for Migrant Workers is a group that works with temporary agricultural workers, mainly Mexicans who come under the Seasonal Agricultural Workers Program, to defend and expand their rights.
On Sunday October 7, at 6:30 am, a bus carrying South Asian farm workers was attacked with stones in Surrey, by white males.
The media has reported this attack together with the beating on Wednesday, October 10, of two South Asian seniors in Bear Creek Park in Surrey, again by a group of white males. The assault took place in the same park where two South Asian seniors were beaten to death by white males in July 2005.
We as Justicia for Migrant Workers would like to express our disgust at the incident, as well as the police and media treatment of it. And also our solidarity with the victims of these attacks and South Asian agricultural workers in general, who we know have been on the front lines of exploitation and racism in this province for decades, if not longer.
From our point of view there is a strong indication that the attacks were racially motivated, and we don't see these acts as isolated. We see them as part of a broader culture of racism that affects this society, and which appears to be growing in part due to the policies of right wing governments in Canada, as well as in the U.S. and Mexico.
In our work with Mexican migrant workers we see this every time we visit the places where they live and work. They often ask us why they are treated differently than "Canadians" – why they are denied permanent residence, why they have to live in sometimes shocking, slum like conditions, why they are denied social services which are their right, and why they have to put up with abuse by their employers and sometimes the general public.
They are just some of the victims of a pervasive culture of racism, expressed through notions of a "white" Canada, and the related so-called Canadian values promoted by right wing elements and accepted as fact by the mainstream. In reality it is clear they are not wanted as citizens, for they do not fit into the dominant vision of an imaginary Canada that has been in development since the time of colonization.
And we are further alarmed by anti immigrant moves by the Harper government that seems to support the idea of a shift in aggressiveness.
We see this reflected in the recent illegal deportations of asylum seekers in Quebec. And also in the arrest of a humanitarian worker, who brought a group of refugees to the U.S. Canada border, sending a chilling message that anyone who helps undocumented immigrants and asylum seekers can be arrested and charged under a flawed, and we believe illegal, interpretation of section 117 of the Immigration and Refugee Protection Act.
The United Nations Refugee agency, Amnesty International, and other groups have denounced these actions as illegal under international law and contrary to Canada's obligations to protect asylum seekers.
Part of the reason we see these incidents with concern is because we know that repression against undocumented immigrant communities in the United States has been increasing recently. This is manifested in the increase in Immigration and Customs Enforcement, ICE, raids and roundups, in renewed efforts by Homeland Security to target employers who hire undocumented people through Social Security No Match Letters, and in violent police attacks against peaceful immigrant rights marches. We worry that this will lead to a growing flood of immigrants trying to come to Canada as they flee the repression, only to meet similar policies of rejection and persecution, when they reach this border.
We also worry that the aggressive increase by the Canadian government in temporary workers programs will further entrench the culture of second class human beings, of course from racialized minorities, with its deeply rooted racist connotations.
These are just some examples of what we perceive as a broader, renewed shift to the racist right by elements in positions of power. Other manifestations of this include the shameful and symbolic rejection by the Canadian government of the UN Declaration on the Rights of Native People, increases in racial profiling, the persistence of fascist policies such as security certificates, and the ongoing wars of aggression against the people of Afghanistan, Iraq and other places.
Related Links:
CCR and AI Condemn Summary Removal Of Refugee Claimants
Prosecution Of Refugee Advocate Denounced
AI Canada: U.S. Refugee rights activist faces criminal charges
Canada Refugee Decision Slammed
UN refugee agency raises alarm as Canada turns away refugees
Canada votes 'no' as UN native rights declaration passes
Immigrants Are Afraid to Report Crimes Because of Increase in Raids
The New War on Illegal Immigration
Three agricultural workers killed in van accident
Employer & lack of government enforcement at fault
March 2007
Farmworker Safeguards Stalled Say Critics
A month after deadly crash, still waiting for reforms.
Labour Double-Standards Blamed for Farmworkers' Deaths
Relatives, unions decry declining standards.
Farm Workers' Deaths: A Tragedy Foretold
BC Libs long criticized for gutting worker safety.
Ripe for Abuse
Their ranks slashed, only three officers now investigate abuse against the 6,000 Indo-Canadian seniors picking fruit across the Lower Mainland. Expect a harsh season. A Tyee special report.
Justicia For Migrant Workers statement of solidarity with the victims (and their families) of the March 7, 2007 accident in Abbotsford, B.C.
March 20, 2007 (Vancouver) - As members of Justicia for Migrant Workers, we would like to take this opportunity to express our condolences to the family members of those who were injured and/or died as a result of the tragic accident that occurred on March 10, 2007. In this their time of need we want to respect their privacy as they mourn for their loved lost ones. However, we would like to express some of the overarching concerns that we have pertaining to how this issue has been portrayed by the media and the authorities.

Firstly Justicia for Migrant workers believes it is imperative to point out the historical role that the Indo-Canadian community has played with respect to this province's agricultural industry. For generations, South Asians have toiled in the fields of British Colombia sacrificing their lives through unsafe and exploitative conditions. Their suffering highlights the unequal power balances that have historically existed between employers and workers in agriculture which has not only fed Canadians but also provided the low cost labour that allows for massive profits for agrobusiness. Sporadic media coverage fails to portray the ongoing injustice that permeates this sector, paying very little attention to the gross violations of human rights that are responsible for the conditions that lead to this tragic accident.

Secondly, reports have individualized the causes that lead to the deaths of Sarbjit Kaur Sidhu, Amarjit Kaur Bal, Sukhvinder Kaur Punia. To simply focus, as members of the RCMP have, on the role of seatbelt safety fails to address the larger systemic issues relating to workplace conditions, transportation and the blatant lack of safety that exists for farm workers across the province. To blame the victims, as has been done in this case, trivializes the issues and sidesteps the critical role that the Provincial Government has played in creating the conditions that lead to these tragic results. These conditions include: failing to provide safe vehicles for transport, lax enforcement of safety standards for farm workers, non existent legislation pertaining to the safe transport of agricultural labourers and the overcrowding of farm vehicles.

Thirdly we want to point out that both these labourers, as well as the contract workers employed under the Seasonal Agricultural Workers Program, work under precarious conditions. These are not only due to workplace exploitation but also to an immigration system whereby both guest workers and recent immigrants are forced to survive by undertaking dangerous and life threatening work. As reported, many agricultural labourers are recent immigrants who due to their employment under the contractor system are forced to work and live in indentured conditions, something which workers in other industries do not have to endure. This type of exploitation must be addressed not by band aid solutions but by a long term commitment to eradicating the workplace abuses and unfair labour practices that have come to represent the agricultural industrial economy.

Finally Justicia for Migrant workers want to express our continued solidarity with Indo-Canadian farm labourers, whose conditions mirror those faced by Mexican, Caribbean and Guatemalan workers in Canada. Irrespective of the divides that come to signify labour divisions in the agricultural system, we believe that is imperative that together with other advocates for immigrant and migrant workers we realize that it is in our shared interests to continue to forge relationships based on solidarity and respect amongst our communities. Regardless of divisions on immigration status, racialized workers continue to toil in our fields and face severe repression if they stand up to speak about their experiences. As such we believe that we need to attack systemic and institutional practices and not workers for tragedies such as the events of March 10, 2007. However to address these concerns we must move beyond blaming the workers and confronting the system that continues to employ immigrant and migrant labour under precarious conditions.
Justicia For Migrant Workers
[PDF version]
For information on the accident click here:
The Tyee
CBC News
Vancouver Sun
J4MW at the Canadian Union of Public Employees
Human Rights Conference
Nov 23, 2006
Online Video "How Migrant Farm Workers (and non-unionized workers) are organizing" - Adriana Paz, Justicia for Migrant Workers, BC.
C.U.P.E. Human Rights Conference video:
Real Player
Quick Time
Windows Media
MP3 Audio
Ottawa plans to streamline foreign worker programs
SCOTT DEVEAU
Globe and Mail
November 15, 2006 - Ottawa announced new immigration initiatives Wednesday that it says will make it easier for employers in labour-strapped provinces like Alberta and British Colombia to hire foreign workers...
Guest workers fall into a health care gap
By Tom Sandborn
Board member of the B.C. Civil Liberties Association
Op-Ed Piece in the Vancouver Sun
November 13, 2006
"B.C. alone among Canadian provinces is willing to accept guest workers admitted by the federal government to harvest our fields, but will not provide these workers with the level of health insurance protection they receive in other provinces."
Civil liberties group concerned about rights breach In exclusion of migrant workers from MSP coverage
PRESS RELEASE:
The BC Civil Liberties Association has sent a letter to Hon. George Abbott, Minister of Health, Expressing concern about recent revelations that indicate B.C. Is the only province in Canada Denying immediate health insurance coverage to agricultural workers brought into the country Under the Federal Seasonal Agricultural Workers Program.
This exclusion represents a real threat to the health and security of workers brought into Canada Under federal sponsorship, and may represent a breach of the province's obligations under the Canada Health Act and the Charter of Rights.
The BCCLA is asking for a prompt meeting with the Minister to discuss these concerns.
For comment, media can contact Jason Gratl, BCCLA board president at 604-694-1919 or Tom Sandborn, BCCLA board member at 604-224-1182.
Letter to Hon. George Abbott, Minister of Health [PDF]
LETTER OF PROTEST BY MIGRANT WORKERS IN BC
April 7, 2006
This letter of complaints was written by the Mexican agricultural workers from the Golden Eagle Group farm in Pitt Meadows, BC, in response to the fact that a series of grave concerns have not been addressed by their employer nor by Mexican consular authorities. This in spite of repeated attempts by the workers to find a solution to their legitimate demands for:
1. Bathrooms, drinking water and a place were they can find cover from the rain while they eat during working days in the fields.
2. More working hours. Currently the workers are being given insufficient working hours that rarely cover the minimum living expenses in Canada, and leave little or nothing to send back to their families in Mexico, which is the main reason why the workers come here in the first place.
3. Fair and respectful treatment by the supervisors and employers.
4. A response to their demands for medical attention without having to pay for it as they are not covered by B.C.'s Medical Services Plan but by RBC Insurance that is limited and insufficient.
5. Compliance with their written work contract which says that they were to work in a greenhouse and not in outdoor blueberry and cranberry farms.
The Mexican workers are employed under Seasonal Agricultural Workers Program (SAWP) negotiated between the governments of Canada and Mexico. Each worker has a contract and is in Canada on a temporary working visa. The migrant Mexican workers are compelled to come to work in Canada as a result of the devastating impact of economic agreements such as the North American Free Trade Agreement (NAFTA) on the Mexican countryside. Upon arrival in Canada the workers often find themselves in precarious working, living and health situations and routinely face abuse and mistreatment from their employers, who appear to almost completely forget to respect the workers' fundamental labour, economic and human rights such the access to healthcare. The workers' complaints are rarely heard or addressed by either their employers or the Mexican consulate.
The situation exposed in this letter by the workers of Golden Eagle farms is not limited to this particular group of workers but can be considered part of a generalized condition of lack of justice, dignity and respect for the temporary agricultural workers that toil in the majority of Canadian farms, even when those workers come through programs negotiated between both governments to satisfy a need for labour in the agricultural sector. - J4MW BC
Download letter in English [PDF]
Download letter in Spanish [PDF]
---
MEXICAN MIGRANT WORKER THREATENED WITH FORCED REPARTIATION FOR VOICING CONCERNS ABOUT WORKPLACE AND LIVING CONDITIONS
J4MW and the BC Federation of Labour held a press conference on May 24, 2006 to denounce the arbitrary termination of Marcos Baac. From left: NDP MLA and Labour Critic Chuck Puchmayr, BC Fed President Jim Sinclair, Marcos Baac, and Pablo Irriberne from the law firm Suleman and Co.
VANCOUVER - May 19, 2006) - Marcos Baac, a Mexican migrant farm worker who was employed by Golden Eagle Farms in Pitt Meadows through a contract under the Seasonal Agricultural Workers Program, received notice on May 9th that he would be sent back to Mexico immediately.
Baac believes that this forced repatriation is a reprisal for being vocal in raising concerns about the farm's poor working and living conditions. In April 2006, after failed attempts to bring their concerns directly to the employer and the Mexican consulate, Baac, along with 31 other workers at the farm, wrote a public letter outlining several workplace and living condition grievances.
Full press release [PDF]
Press release in Spanish [PDF]
Press package [PDF]
About the Seasonal Agricultural workers Program - SAWP [PDF]
BC PROVINCIAL GOVERNMENT IS VIOLATING
CANADA HEALTH ACT
For Immediate Release
March 22, 2006
(Vancouver) - Migrant farm worker advocates are accusing the BC Liberals of violating Canada's Health care act by denying migrant farm workers access to health care in BC. Justicia for Migrant Workers, an advocacy group fighting for the rights of migrant farm workers in BC is demanding that migrant farm workers from Mexico be immediately included under the province's MSP health insurance scheme, so that they can be given basic health coverage. Mexican workers have already started to come back to BC for the third year in a row, and up to a couple thousand workers are expected this year throughout BC...
Full press release [PDF]
Full press release in Spanish [PDF]
Updated Dec 1, 2010